As I watch the setting sun,
I see the shadows getting long.
Shadows are like memories of the day we've had.
Some shadows happy, some are sad:
The things we did, the people we met,
The ice cream van, the girl at the vet.
I'm very little and my shadow is short.
Yesterday is far away
And I don't remember before today.
But when I climb on Grandad's knee,
It's funny how much more I see.
Grandad's long shadow shows all sorts of things:
People and places,
And long ago faces.
He shows them to me in photos and books.
And in the pictures I'm surprised to see
Some of the children look like me!
Grandmas and aunties on a trip to the zoo,
And my grandad's grandad, and his grandad too.
Grandad can tell me about long ago;
His friends, his toys and the things he did.
But Grandad is old and forgets things today,
Like his glasses and the things I say.
So I help him find the things he forgets
And he helps me meet the people he met.
He shares them in the stories he tells.
And when my shadow's longer, I'll share them as well.
You can hear this as well as my short story Poppy's Day read by Falklands War veteran Simon Weston at www.bbc.co.uk/cbeebies/radio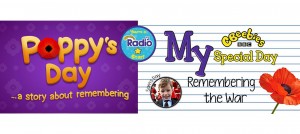 My short story Poppy's Day is available as a free download from CBeebies Radio today and for the next seven days.  Read by Falklands War veteran, Simon Weston,  and beautifully produced by John Leagas, the story marks the centenary of the First World War and introduces little listeners to bravery and the importance of remembering.
I've just read the BBC press release, which says "is as powerful as it is poignant, a reminder about how important it is to remember not just the events of history, but the people."  So that's me feeling smug for the rest of the day.
Follow the link above and if you don't see a big picture of some poppies to click on.  Click on 'Get This Week's Podcasts' and then again on 'Download Radio Podcast' and then on 'CBeebies:Poppy's Day'.
I'm rather excited and very honoured today because my poem Remembering has been included in the BBC's commemoration of the start of the first world war.  If you click on the link, you will hear it included in a wonderful podcast for children on this occasion.  My thanks to Falklands veteran Simon Weston for reading the poem and to Academy Award winning composer Steven Price for the music and to producer John Leagas.
I hope that you enjoy it and if you have young children, that they will too.