By train and plane, taxi and car
We're travelling to Sheffield from Stroud and afar.
Like migrating wilderbeasts, salmon and toads
Although hopefully not eaten or squashed on the road.
On pizzas and parties we'll spare no expense
At the annual Children's Media Conf'rence!
I'm producing, tomorrow, the Opening Sesh
It's a Question Time thing, in which we will flesh
Out the bones of kids' media policy and stuff
And probably mention Brexit but without flimflam or guff
On panellists (and poets) we spare no expense
At the annual Children's Media Conf'rence!
I'm over excited, I'm sure you can tell
Writers don't get out much, oh you knew that as well.
Jayne World has gone all sing song with rhyme
But I'll try to control it most of the time
On potions to pacify me, spare no expense
At the annual Children's Media Conf'rence!
I liked it.
I liked having all my travel arrangements made for me.
I liked getting caught up in a motorcade with blue lights flashing and outriders.  An excellent way to get through Istanbul traffic as long as the the driver pulls back when the outriders start getting twitchy.
I liked five star  accommodation.
I liked my Turkish Bath.
But who takes calls on the loo?  I hope I'm never that esteemed.
And if you'll forgive the unfortunate juxtaposition here, I liked delivering my paper.  If I wasn't already full enough of my own self importance, they gave me two TWO interpreters: one into Turkish and the other Sign Language.
And published my speech in a REAL BOOK OF CLEVER THINGS BY CLEVER PEOPLE.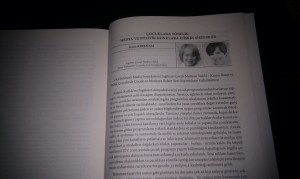 AND I very much liked getting caught up in the Deputy Prime Minister's procession when we all went to dinner.  Top Tip: secret service people are not very secret and they don't make good dinner conversation.
Another top tip: if you mention politics to a politician, be prepared for facial expressions that can only be described as 'inscrutable'.  Try as I might, I couldn't scrute the Deputy Prime Minister.  I later learned I'd been mentioned in despatches and in a good way, but you'd never have scruted that at the time.