Earlier this spring, the Children's Media Foundation was invited to take part in the jury for a new Children's Broadcast Award.  Having recently joined the CMF's board, I took great pleasure in this my first official duty; as if I ever need an excuse to watch lots of children's television programmes and discuss them over lunch.
The organisation giving the award is the Sandford St Martin Trust, an independent and non-profit organisation that seeks to promote and encourage excellence in religious programming and religious literacy amongst policy makers, journalists and individuals. To this end it has been making annual awards for the best programmes about religion, ethics and spirituality since 1978.
This year the trust has introduced a new award for children's content. It was championed by Sandford trustee and broadcaster Roger Bolton who, like the Children's Media Foundation, recognizes the importance of children having quality and variety in programming made especially for them: "It is critical that children and young people are exposed to imaginative works that open their eyes to the world they share and the beliefs people hold."
There were ten programmes on the shortlist. Submissions were for radio, television and online broadcasts and came from a range of producers; from broadcasting behemoths such as the BBC to small religious charities and producers of teaching material. As a writer of fiction, I usually gravitate to drama but there were some brilliant documentaries too. There were some programmes, both fiction and non-fiction, that left me cold: a little too preachy and putting the 'die' into didactic.   But the ones that really worked, that made me think and feel and consider in new ways, had one thing in common: people, real people's experiences at their heart. Even the fictional ones. Their testimonies needed no explanation, no editorial interpretation.   Of course there was editorial input: duh! But the programmes that worked best were constructed to let the stories, the ideas, speak for themselves.
But how can you compare a preschool radio show with a fluffy Christmas special or a hard-hitting teen documentary? That's where children's programming differs from the grown up stuff: it's so much about the audience. Programmes have to be age appropriate; giving or considering a child's perspective, and the best did just that.
Having watched the shortlist and decided which was the most fabulous and worthy winner of the award, I hied me to Westminster to meet with the other jury members: independent producer and children's author Hilary Robinson, National Geographic Kids editor Tim Herbert and Senior Lecturer in Media Practice at Salford University Beth Hewitt.
It was a fascinating process: we each brought different perspectives and expertise and there were biscuits. We were pretty unanimous in the way we shortened the shortlist but then it got …difficult as we tried to tease out the best of the best. Like the Mole in The Wind in the Willows, we "scraped and scratched and scrabbled and scrooged and then we scrooged again and scrabbled and scratched and scraped" until at last – "pop!" we had a runner up and a winner.
And the Winner is….
To be announced this evening at Lambeth Palace….
You expect me to tell you now? I'm off to get ready for tonight's ceremony!
Well I can't call it 'News' when it happened so long ago.  It's not that nothing happens in Jayne World, it's just that I'm having too much fun doing whatever it is to write about it.  And then something else comes along and well, I don't like to brag.
Really?
OK yes I LOVE TO BRAG.  I want to shout a lot about all the brilliant things I'm up to but I wasn't brought up to do that and so a massive knob of guilt sticks like an uncooked crumble clags in my throat and I politely slip away to a quiet corner to cough it up and somehow, amid all the spluttering and gagging, whatever it was I wanted to SHOUT about suddenly doesn't seem so important.
August is a great excuse not to blog – everyone's away doing family holiday stuff and-or writing their great tome.  I did neither.  I spent August (and September come to that)  jamming with bees.  Well they were honeying but it all ended up on fresh bread and butter.  AND I WON ROSETTES.  Ooh, that was almost a brag.
There was loads of other stuff that I should have classed as News but is now Olds. But it's all covered by NDAs and will have to wait until the TV SHOWS are broadcast.  There will be BRAGGING then. Maybe.  Depends how the TV SHOWS turn out I guess.  All I can say is that it was Preschool mainly this summer.
And I did the annual party conferences again.
Preschool and Politics.
You can see how well joined up my life is.  When I say, 'did' the conferences – I watched a lot of stuff on Telly, read lots of press releases, sat on the beach at Brighton and decided I probably wouldn't do it next year.  The Libdems were too far away in Glasgow (couldn't afford the fare) so I relied on their press releases and live debates and twitter feeds, the Tories wouldn't give me a press pass so I didn't go anywhere near Manchester.  I did however go to Brighton for the Labour bunfight (cheap ticket and a friend put me up).
I must must must write about all that seperately and I will.  If not here, then on the Writers' Guild of Great Britain website.  Because I'm a MEMBER OF THE EXECUTIVE COUNCIL and have been for some time.  Ooh another brag.  Go me.
But the best thing that happened all summer; the really very bestest best thing happened on the river.  Thames.  Pangbourne.  90 brand new year sevens all coming to Adventure Dolphin for a 'getting to know you'- 'teambuilding'-'secondary school teachers are great' sort of day.  The weather and river conditions were perfect for… BLACKBERRIES.  Scoffing our faces with berries only accessible to those in small canoes, free from dog piddle and traffic fumes – it's surprising how quickly you get to know each other standing in a boat close to thorn bushes, how well you work as a team to get the best berries and how great the teachers really are when they're soaking wet.  Not sure how to BRAG about that – it's not really news; just a complete joy to be a part of. Of course I WAS EXCELLENT spotting the blackberries and their potential in the first place….
Other Olds in brief:
Was involved

a tiny bit

in some amendments to the Children and Families' Bill currently making its way through Parliament. Tiny BRAG
Was "2nd Best in Show" –  Would have BRAGGED about it before but it was a Dog Show and thought, as I don't have a dog,  'second best in show' didn't sound like something to brag about.  But I do make good jam.
Briefed a shadow secretary of state.  Oh I wish I could say more and BRAG but the Guilt Crumble is clagging again – must add some blackberries.
And I took up bell ringing.  Not really a BRAG yet.  BUT I'VE ONLY SKINNED MY FINGER ONCE.  Brag.
So once more I'm up to date on My News.  That is something to BRAG about.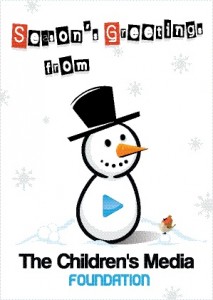 For the first time in several years, the world of children's media have things to celebrate this Christmas.
– The Animation and Games tax relief which will help our production sector compete with the rest of the world and ensure more home grown content for our children.
– Ofcom and the ASA's swift implementation of the Bailey review's recommendations,  which will help put the brakes on the sexualisation and commercialisation of our children
– www.parentport.org.uk, which offers parents one-stop access to all the UK's media regulators.
However, there are still many challenges in 2013, especially for Children's theatre, fine arts, music and dance which have been endangered by changes in Education and cuts to public arts funding.
So whether you and your family settle down to watch the BBC's Christmas Doctor Who, or C4's The Snowman and The Snowdog, or watch a performance of The Nutcracker, or your local pantomime, please remember that Children's Arts and Media are not just for Christmas….
With all good wishes for a peaceful and prosperous New Year,
Me.