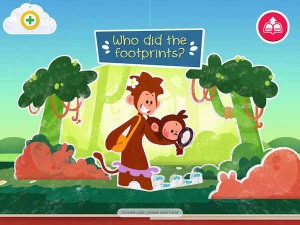 There is now a Tee and Mo story live on the Cbeebies Storytime app.  And I wrote it!  Those lovely people at Plug-In Media asked me and I was more than happy to say yes.
If you don't know Tee and Mo, they are a delightful monkey mother and son combo who get up to all sorts of collaborative fun in the forest.  They collaborate together and also with you, the preschool child/care-giver in their Bafta nominated games (also found on the Cbeebies website).
Narrated by BBC6 Music's Lauren Laverne, Tee and Mo is the brainchild of Plug-In's creative director Dominic Minns.  I love the way he and the other clever people at Plug-in have devised the games to encourage children and their adults to play the games together, to have fun and enjoy each other's company.
Who Did the Footprints is my first interactive story.  I want to say very clever things about extending the reading experience and kinesthetic learning but that would sound terribly dull and I'd much rather you and your Cbeebie went together and gave your Cbeebies Storytime app-watching device a good shake (You'll understand once you've downloaded the story)  so I'll just say that it was enormous fun writing it and I hope that you have enormous fun reading it.