This week it's all runny noses in my #allergies story.  You can hear  about Shaniqua's #hayfever with #DrRanj at
https://www.bbc.co.uk/cbeebies/radio/tennis-twins-and-tissues
Why doesn't her twin sister get it?
And what's the top tennis tip?
Is there a top tennis tip? You'll have to listen to find out.  Carefully or you'll miss it.
You missed it didn't you.
Never mind.  The story isn't aimed at you reading this – I suspect you are much older than six.  All of these allergy podcasts are written to help younger children.  Alongside the stories, children talk about their own allergies and Dr Ranj Singh gives helpful advice.  I hope that your little ones find them useful and of course enjoyable.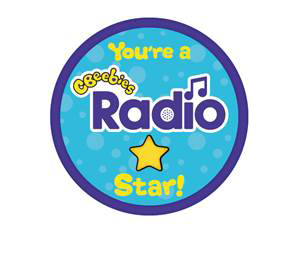 And having too good a time to tweet about it.
This was on Wednesday, at the Broadcast Awards at Grosvenor House. I hope they had as good a time as me, although as nominees (or rather part of shows that had been nominated), they might not have been as relaxed as me, a judge, could be. I had done my bit watching and reviewing the programmes submitted for the Children's 6-12 and 0-6 categories, then discussing with my fellow judges before voting. All I had to do now was enjoy the champagne and glitz.
There was quite a lot of glitz: dinner included some Sweet Pea Emulsion which I have only seen before on a Dulux colour chart, the bits of stem broccoli that usually fall through my colander, turnips the size of snowdrop bulbs and for pudding we had a dessert. That involved yuzo: Alison Moyet, what a great voice.
Jonathan Ross presided over the award ceremony which, despite him, seemed endless – about lots of programmes that I haven't watched or did watch but have forgotten. But there was plenty of wine on the table and ooh, a bit of slate with some rather lovely petits fours that I was probably meant to pass round the table.
The older kids' award went to My Life: The Boy on the Bicycle, a CBBC documentary (directed by Stefania Buonajuti) following a lad round one of the largest refugee camps in the world. If you are one of those people that talks about 'these people' then you need to see this.
The preschool award went to Topsy and Tim. An outstanding episode in an already excellent series. Written by Dave Ingham, the episode is about a pet dog dying. It is handled with such care, wit and honesty that it made me cry. I was genuinely moved by the story. I also cried because I still haven't worked with producers Darrall Macqueen.
I didn't stay until 'Carriages at Three' but left sensibly early, determined to get a good night's sleep so that, with a new day, inspired by these great shows, I could work harder and write better. And find out when yuzu left the music industry and moved into citrus fruit based desserts.
I've just come back from six days in Munich at the 2012 Prix Jeunesse International Children's Television Festival.  Fantastic.  A biennial festival and competition bringing together children's programming from over seventy countries with the intention of improving the quality of children's television world wide, deepening understanding and promoting communication between cultures.  I read the brochure.
To be fair, if you were there I think you'd agree that the festival achieved all that.  This year's theme was 'watch, learn and grow with children's TV.  And I did.  The watching was extreme: 85 shows in competition, plus about 400 available to screen outside.  The learning was extensive: from what it's like to have or live with autism, to how to wash a willy, to how to make mohitos, to what challenges programme makers face in places like Bhutan (not saying where I learned what or from whom).  And the growing was, perhaps too much growing: Kartoffelsalat how I love thee. So…
Jayne's best bits:
Hearing the surprise when the audience having hailed Gumball as brilliant discovered it is a Cartoon Network show.  Hotly followed by the delight that it comes out of London.
Seeing the South African contingent at breakfast the morning after the night before.
Watching Waffle Heart and Leave Me Alone: the current wave of great drama series from Scandanavia isn't just for grown ups.
Jayne's Worst bits:
Learning of some unsporting tweeting – to win a Prix Jeunesse means good business.  How naive of me to think it was about the kids.
Seeing too much stuff where girls are only concerned with their looks and defined in relation to boys.
When they ran out of rum.
If you were there, I'd be interested to know what your best and worst bits were.
The range of shows from across the world was fascinating – seeing how different cultures respond to our stuff, learning what they enjoy, or don't.  I admit I felt a  little disappointed though: I went expecting to be overwhelmed by brilliant new content and style.  But nothing seemed truly innovative or daring.  In fact too much seemed to use the bells and whistles of commercial American shows.  However, without the tight construction of a well crafted script, such imitations were poor.
Oh one other thing I learned watching all this stuff:  we are so lucky in the UK.  Our content makers are among the best in the world.  Companies like The Foundation, Kindle Entertainment, Darrall and MacQueen, Plug-In Media… the inhouse productions from CBBC and CBeebies… they are beacons of brilliance.   I hope I wasn't the only person to notice this and that rather than aping commercial American stuff, overseas broadcasters get inspired by UK storytelling and production values and so buy our programmes AS WELL AS finding their own ways of telling stories that will feed back and inspire me.