I liked it.
I liked having all my travel arrangements made for me.
I liked getting caught up in a motorcade with blue lights flashing and outriders.  An excellent way to get through Istanbul traffic as long as the the driver pulls back when the outriders start getting twitchy.
I liked five star  accommodation.
I liked my Turkish Bath.
But who takes calls on the loo?  I hope I'm never that esteemed.
And if you'll forgive the unfortunate juxtaposition here, I liked delivering my paper.  If I wasn't already full enough of my own self importance, they gave me two TWO interpreters: one into Turkish and the other Sign Language.
And published my speech in a REAL BOOK OF CLEVER THINGS BY CLEVER PEOPLE.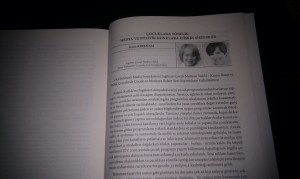 AND I very much liked getting caught up in the Deputy Prime Minister's procession when we all went to dinner.  Top Tip: secret service people are not very secret and they don't make good dinner conversation.
Another top tip: if you mention politics to a politician, be prepared for facial expressions that can only be described as 'inscrutable'.  Try as I might, I couldn't scrute the Deputy Prime Minister.  I later learned I'd been mentioned in despatches and in a good way, but you'd never have scruted that at the time.