Kids hankering for the seaside? I expect a lot of us are. But can you remember the first time you ever saw the sea? Imagine what it was like a hundred or so years ago when going to the beach was not just a thing, it was a really big thing- new, exciting, I mean NEW.
Those lovely people at Showtown, the brilliant brand new museum about Blackpool (you do realise it is the most influential holiday resort ever, don't you) are giving a whole gallery over to celebrate Blackpool's seven miles of golden sand. I know, I can't wait either. Which is why they are posting fun activities, snippets and stuff on social media (links below) to give you a taste of the fun things to come.
Judy on The Beach, a 15 minute story read by… me (I know!) is based on some of my favourite facts, discovered while I've been working with them. Haven't I told you about that? Were you wondering where I've been? It's fantastic, it's ace, such a brilliant project – I'll tell you all about it… another time. Back to the Beach- one hundred or so years ago and the train just chuffing into Blackpool Central.
You can watch Judy on the Beach on Twitter,Facebook , YouTube,Instagram – choose whichever is your favourite and I'll see you there. Or rather you'll see me. And discover the delights of The Penny Lick.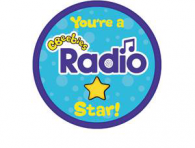 January 21
Well everyone was banging on
about the Internet – the dangers, the disasters.  I know – I've been involved in the campaigns to improve online safety and privacy, leading up to the Digital Economy Act 2017 and beyond.  And one of the things I've learned is that while politicians and vested interests move at glacial speed to make the digital world a safer place, our kids are growing up fast.  So I was chuffed to bits when that brilliant BBC producer John Leagas gave me the opportunity to help children learn a few survival techniques.
Five stories to download on
And just so you don't miss one, here they are individually-
Don't worry, they're not worthy, preachy or teachy – this is me writing them!  Waggy dogs and lazy uncles… Globe-trotting grannies… And a cat who knows where it's app.   Have a listen and enjoy exploring the online world with your little ones in these
…digital… digi-tall… digi-tales…
https://www.bbc.com/bitesize/topics/zkrkscw
BBC Bitesize, Key Stage 1 History – Monarchs and Leaders is now available online. Commissioned by Fettle Animation, my brief was to write the potted BUT HIGHLY ACCURATE biographies of various historical figures AND MAKE THEM FUN. The characters chosen ranged from these monarchs and leaders to famous scientists, campaigners, and others that kids get to learn about at Key Stage 1.
Sharing writing duties with Rick Goodwin and produced by Kath Shackleton, high points of this project were learning about Mary Seacole, whom I only previously knew from a mural on the side of a Reading building many years ago; and that Stephen Hawking was a prankster. Oh, and knowing more about the English Reformation than an executive producer. Low points were knowing more about the English Reformation than an executive producer.
Oh how I laughed.